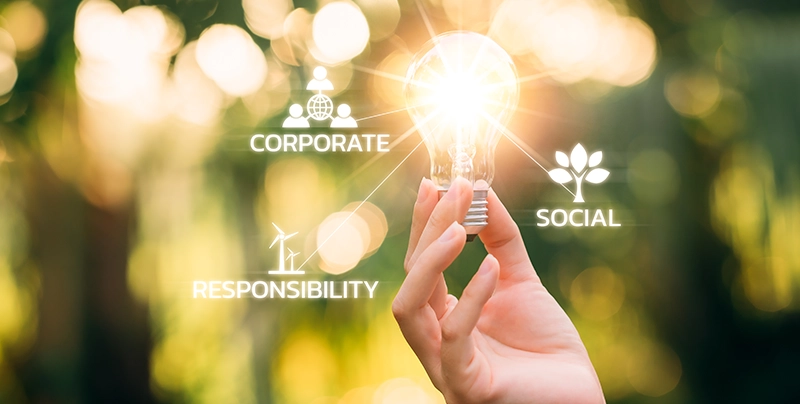 Corporate Social Responsibility Statement:
At Vouchagram India Private Limited, all our CSR activities are goal-oriented projects to support the underprivileged sections of society. With our initiatives we have tried to support renewability and sustainability, we also focus on creating a strong impact by promoting education, sports, vocational skills, and health amongst children and women; Apart from this, we have gone the extra mile to sustain animal welfare projects to save the nature and wildlife for generations to come We strongly believe that the act of giving back to society is making us a stronger - indispensable part of society.
Message from CEO
Dear Readers,
We are a family of 35Lakhs now. I am glad to say that together we could revolutionize the rewards system in India by replacing paper vouchers with e-vouchers which finally save trees. This didn't happen overnight, it took us 10 long years to make this happen. An idea can change a lot if implemented rightly. We are committed to building an impact through meaningful aids and assistance along with the brand pledge "Delivering happiness instantly", which has shaped our journey of CSR. We believe, happiness that is delivered instantly must stay persistently, and for that, we have spread our wings to uplift the underprivileged sections of society. Vouchagram India Private Limited has served people's interests, and all these years we dedicated our service to creating a positive social impact. Our values valued the sense of 'giving back', even before we started to make a profit, and the CSR law got mandated for us.
We have been oriented with NGOs who focus on education, sports & skills development, and the nutritional needs of the beneficiaries. Our CSR funding is dedicated to such impactful projects that take responsibility to nurture the futures of less privileged communities. We have also extended our willingness to care for our environment and the animals by aiding NGOs who work for the welfare of ill and injured animals and conduct various eco-drives like plantation drives and cleanliness drives. Our dedicated CSR funds also go to aiding an NGO that is oriented towards mental, physical & spiritual well-being. The rest of the CSR funds are utilized for utter 'Seva', for aiding the relief camps and NGOs working towards initiatives like Covid care, and flood relief.
Going forward, we continue to stay dedicated to working towards nutrition, education, vocational training, medical facilities, employability, and the environment.
I would like to extend a sincere vote of thanks to all our committed committee members, clients, partners, NGOs, advisors, colleagues, and employees for commendably working towards our common aim. On behalf of the team, Vouchagram India Private Limited, I pledge that we will continue to find simple solutions to address bigger challenges, make larger impacts, and redefine the true meaning of corporate social responsibility.
We look forward to the continued support of our honorable stakeholders, clients, and partners in enabling us to touch more lives and deliver the happiness that stays persistent.
Best Wishes,
Arvind Prabhakar
CEO & Founder, Vouchagram India Private Limited
OVERVIEW
Vouchagram India Private Limited has spread its wings to embrace and help in uplifting the underprivileged sections of society. Our goals align with the sustainable development goals, and we support a broad spectrum of initiatives starting from education to women empowerment and serve across the SDG like health, nutrition, vocational studies, skill development, employability, renewability, environment care, and ecological awareness programs.
HEALTH & NUTRITION
EDUCATION & SPORTS
WOMEN EMPOWERMENT
VOCATIONAL STUDIES & EMPLOYABILITY
RENEWABILITY & SUSTAINABILITY
ENVIRONMENT & ECOLOGY
Causes & Impacts
Through our CSR we have targeted the following causes: Unemployment, Illiteracy, Malnutrition, Pollution, and Lack of health care facilities for humans & animals. Thus, we support organizations working on these causes to achieve Sustainable Development Goals
PROGRAMS WE SUPPORT -
1. Paschim Vihar Sports and Cultural Society
We proudly contribute Our CSR funding to this organization.PVSCS runs various programs including sport training camps, medical examination camps, self-help camps, sports tournaments, medical camps, free tuition to primary students, distribution of winter wear, and organizing sports championships, thus providing a platform for these children to polish their skills and showcase their talent. We encourage PVSCS to tap the potential talent in youngsters and provide an opportunity to climb up the stairs of social empowerment and shape character by inculcating a sense of belongingness in society.
Notable Impact: Some of the beneficiaries from Paschim Vihar Sports and Cultural Society are currently playing at the national circuits and earning laurels for the states.
2. SANSTHANAM ABHAY DAANAM
Our goal resonated with Sansthanam Abhay Daanam, a charitable trust having its center in the village of Sunpura, Gautam Buddha Nagar. The Trust was initially formed to help birds and small animals during their sickness and injury. Later on, the Trust started rescue and treatment of large animals also. At present, the Trust has expanded its working area not only for birds and animals but also for Environment and Human beings. The Trust has opened Ayurvedic and Naturopathy Research centers and Hospitals where free treatment and care are given to sick and needy human beings. Vouchagram India Private Limited supports the well-being of both animals and humans by aiding this organization financially.
4. YOGODA SATSANGA SOCIETY OF INDIA
Paramahansa Yogananda founded Yogoda Satsanga Society (YSS) in 1917 to make available, in India and neighboring countries, the universal teachings of Kriya Yoga, a sacred spiritual science originating millenniums ago in India. As expressed in the Aims and Ideals formulated by Paramahansa Yogananda, YSS also seeks to foster a spirit of greater understanding and goodwill among diverse people and religions. Its goal is to help all to realize and express more fully in their lives the beauty, nobility, and divinity of the human spirit. By contributing around 6.3% of our dedicated CSR funds to aid the welfare activities run by the organization like dry ration distribution, relief kit distribution, covid seva along with mental & spiritual well-being camps.
4. SHRI JAGATBHARATI EDUCATION AND CHARITABLE TRUST
This organization actively works to benefit the underprivileged people from remote areas of Gujarat through vocational training in handicrafts, mobile repairing, computer hardware & networking. Vouchagram India Private Limited values its initiative and resonates with the goal to reach out to people living in remote areas to give them training so that they can earn a better living for themselves.
5. AKASHIGANGA FOUNDATION : working In the area of plantation and prevention of environmental pollution
6. Ratnatraya foundation: Providing free food to underprivileged people
CSR Expenditure
CSR Fund allocation by Vouchagram India Pvt Ltd during the last 5 financial years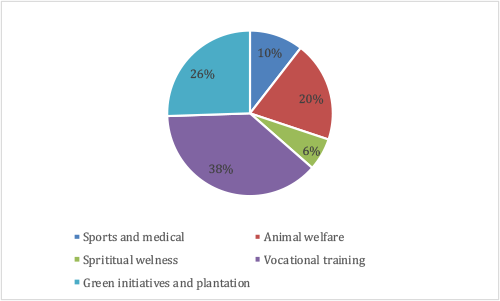 CSR Committee
Arvind Prabhakar
Director and CSR Committee member
Puja Punj
Director and CSR Committee member
Vallapa Reddy Siddharth Shankar
Director and CSR Committee member
Contact us for CSR
GyFTR is open to innovative ideas for change, partnerships, and proposals. We warmly welcome NGOs, Trusts, and Welfare societies to get connected with us. We would love to join hands to bring positive and sustainable changes in the environment for animals and humans.